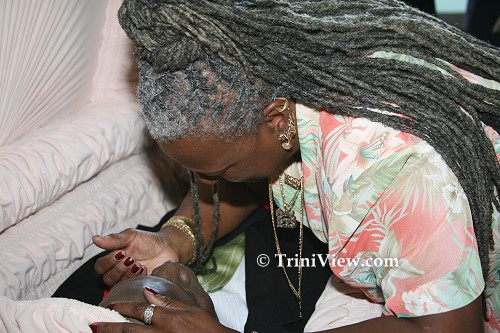 SAD TO SEE YOU GO: Dr Laini Gilliam-Joseph, window of cultural aficionado Terry Joseph, wipes his coffin during his farewell yesterday at Marvin Lee Stadium, Macoya.
THE CELEBRATION of the life of cultural icon and journalist extraordinaire Terry Joseph yesterday was as he would have wanted it, with the sounds of the local music he loved and championed, and the voices of the people he loved and cherished.
Express Editor-at-Large Keith Smith, in his tribute, noted that Joseph's life in journalism was not as long as people think, but that he had mastered it and was one of the greatest headline writers in this country.
He recalled that Joseph was such an expert on steelband, mas and calypso, that people from all corners of the world would be referred to him for information on the art forms.
"It is not an easy task for me to stand up and talk about the departure of my best friend," said Smith, his voice breaking and tears filling his eyes.
Smith recalled that as he was approached by people on the street or in Laventille, where Joseph is originally from, the majority would imitate his deep voice as they reminisced about him.
About 300 mourners attended the service held at the Marvin Lee Stadium, Joao Havelange Centre of Excellence, Macoya, and in the stands and under three large white tents on the field decorated with patriotic streamers.
Joseph, 60, died on January 2 at his home in Douglasville, Georgia, US, following a long battle with cancer. He travelled many miles unwell on December 23, 2007, to spend his final days with his wife Dr Laini Gilliam-Joseph.
In an impromptu eulogy, Gilliam-Joseph noted that it had been a privilege to marry him twice, quipping that she was either "a fool or really in love".
She pointed out that for him to make the journey to see her last month in all his pain confirmed that he truly loved her.
She noted that she brought his body back to Trinidad despite the expense because "my husband loved his country and his countrymen. He had to come back home in the end".
Gilliam-Joseph was dressed in a bright peach and green dress and explained that her husband celebrated life and liked his wife "in living colour" and not the traditional widow black.
FIFA vice president and Chaguanas West MP Jack Warner, who Joseph was known for spending hours with chatting about football, said he had lost one of his greatest friends with Joseph's death and described him as one of the "most wonderful human beings he had ever met".
Also bringing memorials were Garth Giuseppi, of Carnival band Rabs Immortelle, of which Joseph was a founder, National Carnival Bands Association (NCBA) secretary Wrenwrick Brown, president of Pan Trinbago Patrick Arnold, National Carnival Commission chairman Keston Nancoo and Harvard club vice president William Pierre.
President of the Trinidad and Tobago Unified Calysponians' Organisation, Michael Leggerton, recalled that Joseph had written several articles about calysponians, some with a lot of venom.
But he noted that after meeting the writer they initially wanted to hate, they would instead admire, respect and "if you stayed around him long enough, to love him".
Minister of State in the Ministry of Community Development, Donna Cox, said Joseph would be remembered for his dedicated service and passionate contribution to the local art form.
"The nation as a whole would be poorer without Terry Joseph," she said.
Joseph was remembered for his warmth, spontaneity, biting sense of humour, sarcastic wit, as a great drinker, cultured style and class, fairness, brutal honesty, strength and courage, and for being an indefatigable worker, "a giant of a man and a cultural warrior".
During the celebration there were performances by the Laventille Rhythm Section, Lord Superior, Lydian Singers, Brother Resistance, singer Mavis John accompanied by Grammy-award winning percussionist Ralph MacDonald and veteran steelband arranger Pelham Goddard.
Among those who attended were Senator Wade Mark, Opposition Senator Tim Gopeesingh, former Trade and Industry Minister Kenneth Valley, Mayaro MP and ex-calysponian Winston "Gypsy" Peters, former Minister in the Culture Ministry Eddie Hart and Parang impresario Holly Betaudier.
For the final tribute, Roy Cape All Stars and steelband Sagicor Exodus performed "Memories" by The Mighty Sparrow.
As Joseph's casket was being carried into the hearse, the pall bearers danced and sang to the calypso music and some beat a tune on the casket. His body was then removed for a private cremation.