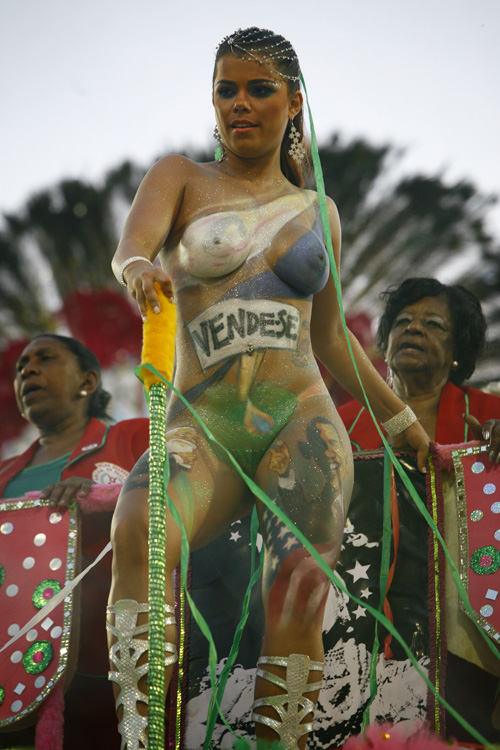 Now I have been getting a lot of hits these days from readers looking for some of
Brazil
's Carnival this year, so for you guys looking for some Brazil Carnival 2009 news, here you go
SAO PAULO
— A Brazilian carnival queen famous for her skimpy attire is grabbing headlines again for painting
President Barack Obama's
face on her body.
Viviane Castro paraded nearly nude early Saturday with the U.S. leader's visage on her right thigh.
Brazilian President
Luiz Inacio Lula da Silva
's face was on her left thigh.
Castro's stomach read "for sale" _ a message she said represented the sale of Brazil's Amazon to the U.S. Many here fear the U.S. wants to control the resource-rich region.
Castro appeared in last year's Rio
Carnival parade
wearing nothing but a strategically placed piece of tape 1 1/2-inches (4-centimeters) long , violating a little-enforced nudity rule and drawing a penalty for her samba group.
RIO DE JANEIRO
—Brazil's Carnival, long a symbol of youth, beauty and sex, added a mature twist Monday by giving two women in their 40s a chance to dance nearly nude at the head of their samba parades.
Some of Brazil's most beautiful women battle it out each year to become their school's "drum queen" and lead their parades by furiously dancing samba in little more than glittery body paint, an enormous headdress and dangerously tall high heels.
The role usually goes to young starlets or beautiful women plucked from the downtrodden areas where the samba schools are based.
But two leading samba schools taking part in Monday's final night of the top-tier parades surprised Brazilians by choosing women aged 46 and 44 -- though one is a former model and the other was once a Playboy cover girl.
"It's a huge change,"
Luiza Brunet
, 46, told
The Associated Press
as she prepared for her showcase role in the Imperatiz
samba school
's parade. "It shows that women who are more mature are gaining space in a country with so much machismo, where we give more value to youth and beauty."
Psychologist Enaile Ortiz -- herself 48 -- agreed.
"Brazil has always had this understanding that youth equals beauty, but this year's Carnival is breaking that paradigm," Ortiz said as she strolled down Ipanema beach. "This shows you can be in a beautiful state, no matter what stage of life you are in."
While having two drum queens in their 40s is unusual, it's not the first time a woman of a certain age has held the honor. Brazilian actress Susana Vieira last appeared as a Carnival drum queen in 2006 at the age of 63.
And no one has suggested that Brunet or Luma de Oliveira, 44 -- both mothers with two children -- are unfit for the gaze of millions, or likely to wilt during 80 minutes of dancing in Rio's unrelenting heat.
Hicla Curvello, a 26-year-old student sunning herself on Ipanema beach, seemed shocked that anybody would ask the question.
"They have incredible bodies -- haven't you seen them?" she said. "They gorgeously represent the face of Rio's Carnival and it isn't important if that face is a little older this year."
Imperatiz and Oliveira's Portela entry are among the 12 top samba schools competing over two nights in front of 80,000 spectators at the Sambadrome stadium. A winner is announced on Wednesday.
No prizes are given, but the winners are celebrated across Brazil and the drum queens, if they aren't already famous, often land modeling and acting roles.
The reigning champion, Beija-Flor, paraded early Monday with an elaborate, if rather difficult to comprehend, presentation on the history of mankind's relationship with water and bathing. The school used 7,000 liters of water on its floats, in the form of waterfalls, fountains and a pyramid that mid-parade was transformed into a beach.
Beija-Flor had it's top fan in attendance: President Luiz Inacio Lula da Silva spent eight hours watching the parades -- staying till 5 a.m. He is the first president in some 15 years to attend the parades in Rio.
At one point, he tossed condoms down from his box seat onto those parading, taking an active part in a government anti-AIDS campaign to distribute 65 million prophylactics this month.
By Bradley Brooks
/
February 23,
2009
Related articles