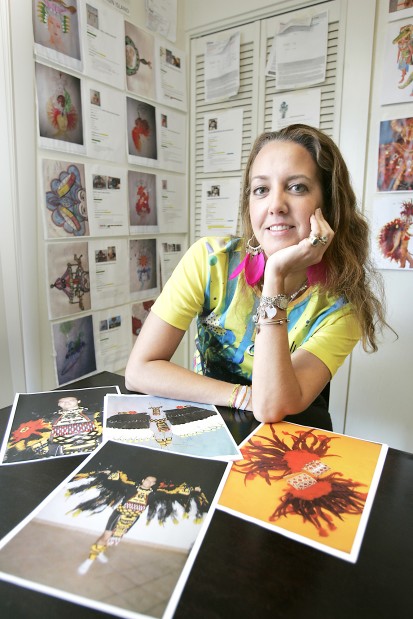 Napa is about 6,620 miles from
Rio de Janeiro
. Culturally, it is equally removed. Yet from a small kitchen, a local woman runs a business selling a product that is an integral part of Brazilian identity. Maria Cristina Skowronski Flynn, 41, co-owns Brazil Carnival Shop, a Web-based business that sells carnival costumes to the foreign market. Once a year, Rio and many other cities in Brazil shut down. Banks close. Restaurants shutter. And the streets become a river of parades with dancers in extravagant costumes. It's Brazil Carnival. "Anyone who comes from Brazil — they have Carnival in their veins," said Flynn, a Brazil native. Such extravagant garb, with rows of sequins, tufts of feathers and strings of jewels and stones, isn't mass-produced offshore. Most ensembles are carefully handmade and include ironwork, beading, embroidery and other time-consuming construction.
Carnival has taken on a worldwide appeal, creating a market for these costumes, Flynn said. The
2016 Olympic games
and 2014 World Cup, both of which Rio de Janeiro will host, have given Brazil more fame and in turn, created yet more interest in Carnival. All of these factors have sheltered Brazil from the economic downtown that has affected so many other countries worldwide, Flynn said. In its first two years, her business has grown to what she projected it would in five. Flynn knows of little
Brazilian culture
in Napa. She's never created costumes for anyone who lives here. But Napa has been home to Flynn, her husband and her two children since 2005. The family moved here when her father-in-law, Dr. William Flynn, the former director of Napa State Hospital, grew ill. Flynn and her brother, Andre Skowronski, first started an English-language website with information and videos about Carnival three years ago. Over time, however, Flynn and Skowronski found many foreigners were asking where they could get Carnival-style costumes. Flynn contacted Bruno Villaca, a young designer she had followed for many years who has designed costumes for the Venice Carnival, about helping them form the costume side of the business.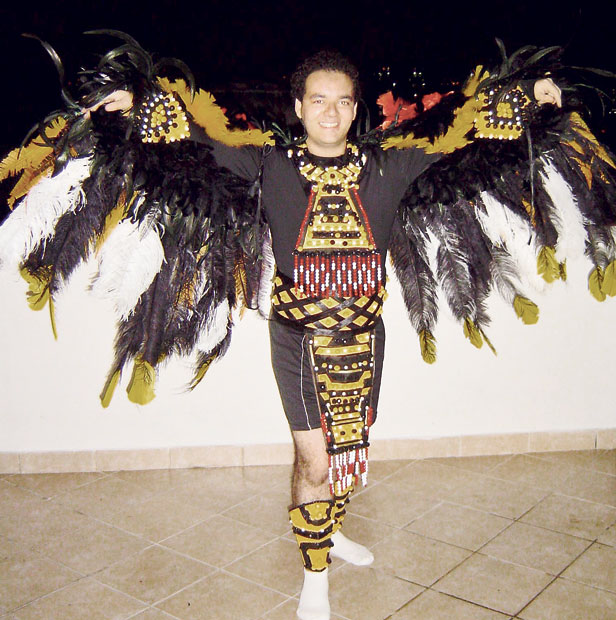 They launched BrazilCarnivalShop.com to meet this demand. Flynn attended school at the
Fashion Institute of Technology
and interned at famous couture house Maison Gres in Paris. She lived in New York for 16 years working in the fashion industry. Her resume includes a stint working for Oscar de la Renta as his assistant designer and one as a color quality specialist at Capital Mercury Apparel. Brazil Carnival Shop ties together her business background, fashion experience and her own culture. "I never thought I would make money with a Brazilian concept," she said. Yet her American education and fashion experience have brought a credibility to her business that she might not otherwise have had, she said. She receives inquiries from people around the world hosting events that have Carnival themes. They include people in show business, entertainment, professional dancers and professional Samba schools outside of Brazil. Last year, the organizers of the
Notting Hill Carnival
in England ordered 100 costumes for that event. She currently has an American client in Kuwait who ordered 20 costumes for an event celebrating African culture in March.
This year, her business is shipping 100 Carnival hats to the Virgin Islands for the 60th anniversary of Carnival. Often, her clients provide pictures of costumes or other inspirations from websites or movies that help in creating their vision. She passes on the specifications of the project to Villaca in Rio de Janeiro, who drafts sketches and provides a budget. They communicate with the customer through video conference and email until they have a good idea of what the customer wants. Read more:
http://napavalleyregister.com/business/napa-woman-brings-fashion-to-brazil-s-carnival/article_fd7ac03e-6d6f-11e1-8059-001871e3ce6c.html#ixzz1p6J7fsul