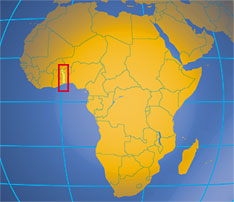 The good virus that is Carnival has now reached
the West African nation of
Togo
.
The first Lome international Carnival was held in Togo's capital of Lome, on Saturday 5th of April 2008. Samba groups from Brazil were there and other groups also attended, lets hope a Trini delegation can go there next year and hot up de place Trinibago style!
Brazilian, Belgian troupes to attend maiden int'l carnival in Togo

APA- Lome (Togo) Artistic troupes from Brazil and Belgium
are currently in Lome to take part in a major international carnival on
Saturday, APA learns in the Togolese capital.
The first event should be "an
opportunity for the population to experience a carnival and have fun," the
president of the steering committee Remy Akakpo said.
He said artists of the
"Ole Ola Recreativo Escola de Samba" of Brazil and a group from Belgium are
already in Lome.
They will perform alongside ballet groups, brass bands,
majorettes and traditional dance groups from all regions of Togo, he
announced.
On the day of the carnival, participants will board ten decorated
floats and travel the thoroughfares of the Togolese capital before arriving, in
late afternoon, at the Convention Centre of Lome located in the city centre.